Morocco is one of the most renowned AFCON teams and will be seeking to perform well in the upcoming finals after qualifying by ending up second in their group.
Continue reading to discover everything you need to know about the Morocco AFCON team and their chances of performing well in Ivory Coast next year.
18+. The minimum deposit is ZMW20. Wagering requirement: 5x/30 days the bonus amount in accumulator bets + WinGames x 30/30 days. At least 3 of the events included in an accumulator must have odds of 1.40 or higher. T&Cs Apply.
Morocco AFCON Team Details
Many of the players who excelled at the 2022 World Cup in Qatar will likely participate in AFCON next year. The Morocco team includes players from top European and Middle Eastern clubs, as well as some representing famous Moroccan clubs.
Morocco AFCON Betting Odds
Morocco AFCON 2024 Squad
The Morocco AFCON squad for the finals has not been announced yet. However, we can anticipate some of the most well-known players to participate.
Players like PSG's Achraf Hakimi, Sofyan Amrabat, presently on loan at Manchester United, and Hakim Ziyech, are likely to be part of head coach Walid Regragui's plans for next year.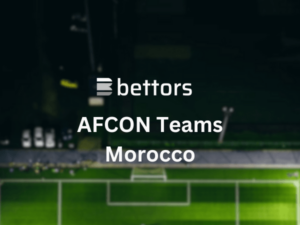 Morocco AFCON 2024 Predictions
Find our predictions about Morocco's performance.
Top Seeds
Despite the presence of several strong teams in next year's finals, Morocco has been placed in pot 1 for the group stage draw. This means they will undoubtedly avoid teams like host nation Ivory Coast, Algeria, and defending champions Senegal.
Progress to the Knockout Stage
Even finishing third in the group could lead to advancement to the round of 16. As a top seed, Morocco should not face too many difficulties in achieving that.
Final Four
Morocco has not progressed beyond the quarterfinals since 2004.
However, following their impressive performance at last year's World Cup, the Atlas Lions will be under pressure to achieve more. Reaching the semi-finals at a minimum is probably their main goal under Walid Regragui.
Where Can I Watch Matches of Morocco in Zambia?
AFCON games will be accessible on various broadcasters and websites. Some betting operators, including 1xBet, will also livestream games featuring Morocco.
To watch you must have an account created with the bookmaker, and deposit the minimum amount
History of Morocco Team in AFCON
Although Morocco has been a prominent force in African football for decades, the Atlas Lions have only claimed the championship once.
That victory occurred in 1976 in Ethiopia. Morocco reached the final in 2006 but was defeated by host nation Tunisia.
In the last three editions of AFCON, Morocco has reached the quarterfinals twice and exited at the round of 16 once. They will experience significant pressure to improve their performance next year.
Morocco AFCON 2024 Team FAQs
Morocco's all-time leading goal scorer is Ahmed Faras, who played from 1966 to 1979, scoring 36 goals in 94 games. Hakim Ziyech is presently the most prolific scorer, netting 20 goals in 54 games.
Morocco is one of the favourites in the AFCON group F.
Morocco has a strong chance of winning AFCON 2024. They are among Africa's top teams and have demonstrated consistent performance in recent years.
While there are numerous formidable teams competing, Morocco is expected to feature in the competition's latter stages.
Morocco's current coach is Walid Regragui. He has been in charge since 2022 and guided the team to the final four of the 2022 World Cup.
Morocco vs Zambia – Betting Tip
AFCON has always been a significant event in Zambia, and Morocco's performance in the tournament is closely followed by Zambian football fans. Moroccan players' skills and finesse on the pitch have earned them admiration and respect among Zambians.
In recent years, Zambian players have been inspired by Moroccan footballers and have started to adopt some of their techniques and tactics. This growing connection between Moroccan and Zambian football has further enhanced AFCON's significance and the excitement surrounding the Morocco AFCON team.