In this SportyBet review, you will find a verdict on the bookmaker's registration, bonuses, sports betting options and mobile app. Read on to get a complete rundown of this Zambian online betting site.
---
---
SportyBet Zambia Review Details
This SportyBet review shows that this Zambian bookmaker has a range of good features and user-friendly functions.
Firstly, the site is easy to navigate and the sign up and login processes are straightforward for new users. In addition, the site has a few mobile money banking options to access.
Also, this review found that the bookmaker has a solid sportsbook offering. Additional services, like live betting and a dedicated app are also on offer.
SportyBet Bonus Review
First, in this SportyBet Zambia review, you can find details about the bookmaker's bonuses. Currently, via the promotions section, the bookmaker has a few sports betting offers for existing players.
Here, bettors can find a refer a friend offer and a free bet new player bonus.
Overall, the site has a few good bonus options available. As a result, this SportyBet review gives the bonus offers a 4/5 rating.
SportyBet Registration Review
Today, any new players without an existing SportyBet account will need to register with this bookmaker. Once you create an account, you can access sports bets, promotions and banking options.
Generally, the registration process is relatively effortless.
During the sign up procedure, bettors provide a valid Airtel or MTN number and set a secure password. Then, you will need to verify your personal details to gain full access.
In summary, the registration steps are hassle-free, and this SportyBet review gives the process a 5/5 rating.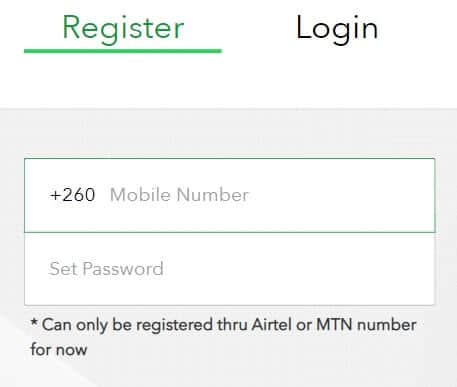 SportyBet Login
Logging into an account is also simple, and bettors can use their phone number and password combination to gain access at any time.
Moreover, you might forget your password and login combination at some point. However, the bookmaker has a simple reset function on the homepage. Just press the "Forgot password" button and follow the instructions.
Because logging in to this site is straightforward, this review gives the process a 5/5 rating.
SportyBet Banking Details Review
This SportyBet Zambia review found that the betting site only uses payments from mobile money services.
Currently, bettors can only use MTN and Airtel mobile money banking methods for deposits and withdrawals. No options are available for bank cards, transfers or e-wallets.
However, the banking options for deposits and withdrawals are quick and direct. As soon as you have set up your mobile money account with your betting profile, you can send funds with ease.
Minimum deposits are ZMW 2.00, and the maximum is ZMW 20,000.00. Whereas for withdrawals, the minimum is ZMW 2.00, and the maximum is ZMW 10,000.00.
Because there are only a few available banking options at this provider, this review gives the payment methods a 3/5 ranking.
SportyBet Sports Betting Review
Today, bettors can access a range of sports betting options at SportyBet. Some of the biggest and best sports fixtures are available to wager on at the site.
Moreover, the provider has additional sportsbook features that existing customers can utilise.
Below, this review looks at a range of the provider's sports betting functions. In addition, each section looks at how this operator compares to some of the best betting sites in Zambia. 
Sports Available
Currently, this betting site has around 20 different sports that customers can wager on. Among the sports are some of the most popular betting options for Zambian players.
For instance, players can find bets for football, basketball and tennis.
However, the betting provider also offers some interesting sports betting options. The brand has a dedicated e-sports section where bettors can wager on popular games like League of Legends and Dota 2.
Furthermore, up-and-coming sports betting options like MMA, virtual sports and futsal are available. 
Top Leagues Covered
Like many popular betting sites, SportyBet has betting options for some of the world's most significant sporting leagues and events.
At present, you can find odds for internationally popular football leagues. These include regular wagers for the English Premier League, Champions League, Bundesliga and La Liga.
Similarly, other sports like basketball and tennis are well covered in the sportsbook. First, regular National Basketball Association bets are on offer to existing players.
In addition, players will find odds and markets for tennis competitions such as the International Tennis Federation, Association of Tennis Professionals, and Women's Tennis Association. 
Markets and Odds
Moreover, when players choose their preferred sports to bet on, they have various odds and markets.
For almost every sport, bettors have options for outright match-winner bets. Also, players will likely find a wealth of future betting offers for most competitions.
Through future bets, customers can place a wager on the overall winner of tournaments before the action takes place. 
But, SportyBet has some good alternative markets for some sports too. In addition to match-winner bets, the provider has under/over, double chance, handicap and individual player performance markets.
Although, these options are only available for the most popular sports on the site. 
Live Betting
Lastly, this betting brand has some good live betting features and functions. Players can find multiple in-play events and fixtures in the live section.
Moreover, bettors can track the progress of pre-match bets as the action unfolds on the pitch. Alternatively, players can place live wagers as the match progresses.
Also, the platform has some helpful services so customers can keep track of their favoured matches.
For instance, you can view a match tracker showing a contest's key events timeline. Also, SportyBet provides up-to-date match stats, a live visualiser, win probability and team lineups in the live section. 
SportyBet App Review
When players sign up with this brand, they can access the SportyBet app. However, the mobile application is currently only available for Android users.
There is no update yet on when iOS users might be able to use the platform.
Players can use the same features on desktops when they get the brand's Android app. For instance, bettors can place bets, manage accounts, make payments and find promotions and offers.
However, more mobile-friendly functions also exist on the app.
For instance, bettors can easily use the cashout function on live bets and withdraw funds early from a bet. In addition, players can set up notifications for upcoming matches, bets and offers on their mobile devices. 
Existing customers can get the app straight from the bookmaker's website. They can download and install via a QR code or web link.
But, players must ensure they have the correct mobile specifications to download and install the app. Today, bettors need a version of Android 5.0 or higher for the app to run correctly.
Although, if players do not have an Android phone or their device does not meet the requirements, alternative mobile options are available.
Instead, bettors can use the bookmaker's services via a mobile browser platform. Here all the usual functions are available, but the platform is not as quick or user-friendly as the app. 
SportyBet Review Zambia FAQs
Lastly, you can find answers to some of the most common questions about this bookmaker and its services.
Is SportyBet safe to use?
Yes, SportyBet has a valid and legal licence to operate in Zambia. The Lottery And Betting Control Board licensed the brand under the Betting Control Act. This licence means the company must meet certain standards and provide safety and security for players.
How do I book a game on SportyBet?
First, bettors must have a valid and existing betting account at SportyBet to book a game with enough funds to make a wager. Next, bettors need to select their preferred fixture or wager, then make their preferred stake and confirm their bet.
How do you play SportyBet for beginners?
If you are new to sports betting, consider researching betting strategies before depositing funds. Also, check out the brand's FAQ and support section for further information on depositing, withdrawing and placing a bet.
Why is SportyBet not loading?
Sometimes betting sites update their website, and this can cause slow loading. Also, in some cases, the site may load poorly. If this happens, wait for 12 to 24 hours and check again. However, if the problem continues, contact the betting site's customer service team.