Existing customers can make a Gal Sport Betting withdrawal when they have positive funds in their account. Read this guide for instructions on how to complete a GSB withdrawal and for an overview of the available methods.
T&C's: 18+. This offer is only available to new GSB players upon registering their accounts for the first time and is not recurring. Bonus amount : 100% from first deposit Up to 2,000 ZMW in Free Bet. Minimum total odds of 3.0, x3 wagering. Wagering must be completed within the first 30 days after your first deposit. Your Free Bet bonus maximum net payout is 10,000 ZMW. T&Cs Apply.
How to Withdraw Money From Gal Sport Betting Zambia?
First, this guide shows you how to successfully make a withdrawal from Gal Sport Betting.
Once you have created an account and have positive funds in your wallet, you can withdraw at any time. But you must meet the minimum withdrawal amount, which is currently 1.00 ZMW for all payment methods.
How to withdraw money from GSB Zambia?
First, you must log in to your verified betting account.

Also, if you do not have a registered account with the bookmaker, you must set one up through the registration process.


Second, once you are logged in, go to the withdraw menu.

Then, select your preferred payment account from the list available.

Next, enter the amount you want to withdraw in the correct box.

Here, ensure you have enough funds to complete a Gal Sport Betting cash out. 

To proceed, double check your information is correct and enter your password.
Lastly, click withdraw.

The transaction will be complete, and the withdrawal amount will be taken from your account.
Gal Sport Betting Withdrawal Methods in Zambia
When you come to withdraw your funds from your betting account, you will have various options available. In addition, the same Gal Sport Betting deposit options are exactly the same for withdrawals.
Here you can find out more about the various withdrawal methods available with this online betting site. Currently, the site allows withdrawals to various web pay providers and platforms.
As a result, if you want to use a mobile money platform, check that you have an existing account with these providers.
Alternatively, you can use the Gal Sport Betting cash out option via the Shop Cash option. But, you must also check you have an accessible Gal Sport Betting store nearby to complete this method.
Furthermore, you will find more information about minimum and maximum transfers and potential wait times for your funds to appear.
Web Pay
Firstly, bettors who have an account with Airtel, MTN or Zamtel can use the Web Pay service to make withdrawals.
These services are online banking accounts where players can transfer funds. In addition, these providers do not charge any additional fees for transactions from Gal Sport Betting.
For all Web Pay withdrawal methods, the minimum withdrawal amount is 1.00 ZMW, and the maximum amount is 20,000 ZMW.
However, for transactions over 10,000 ZMW, customers are advised to check their mobile money provider can hold up to 20,000 ZMW. If your provider cannot support this amount of credit, then delays could apply to your withdrawal.
Shop Cash
Alternatively, players can use the Shop Cash method to make a withdrawal from a betting account. This is an in-person service provider by Gal Sport Betting, and you collect your funds from the nearest shop.
To get the Shop Cash withdrawal, simply log on to your account, select Shop Cash and enter the amount. Then, you are sent a unique SMS code that you present in-store to receive your withdrawal funds.
At present, the bookmaker has over 100 retail shops located in Zambia. The provider has stories in the biggest towns and cities in Zambia. For instance, shops are located in Lusaka, Kitwe and Ndola.
Here bettors can collect their potential winnings using the Shop Cash method. Also, bettors can find information about their nearest store on the Gal Sport Betting website.
In addition, the minimum withdrawal amount is 1.00 ZMW, and there is no upper limit.
Therefore, you can withdraw as much as you require from your account with no maximum. Moreover, you will not be charged any fees for using the Shop Cash withdrawal option.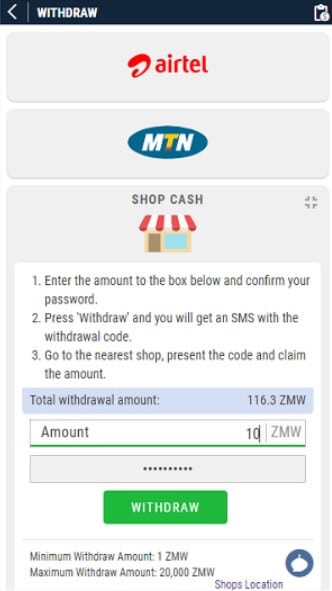 Gal Sport Betting Withdrawal Zambia FAQs
To conclude this guide, you can find answers to some of the most frequent questions about Gal Sport Betting withdrawal options.
Currently, the minimum withdrawal for all methods is 1.00 ZMW. To make a withdrawal from this betting site, you must have at least 1.00 ZMW available in your betting wallet.
At present, you cannot withdraw the Gal Sport Betting promotion code. Instead, this is credited to your account as a free bet bonus once you meet the qualifying criteria. However, once you have successfully wagered the free bet, you can withdraw any winnings.
Usually, withdrawals are shown in your account within 48 hours. However, the process can take longer, depending on the payment method you select. Furthermore, verification checks can also lead to longer wait times for withdrawals to clear.